The Top 7 Reasons You Might Be Losing Out On New Patients
1. You Don't Have a Website
This is pretty obvious, but you'd be surprised how many dentists and orthodontists still do not have a website. Your dental website is the digital face of your practice. More and more patients are searching for a dentist or orthodontist online via search engines, social media, and local directories, and these searches increase with each passing year.
If you don't have a website, you are missing out on a huge part of the potential for growing your practice.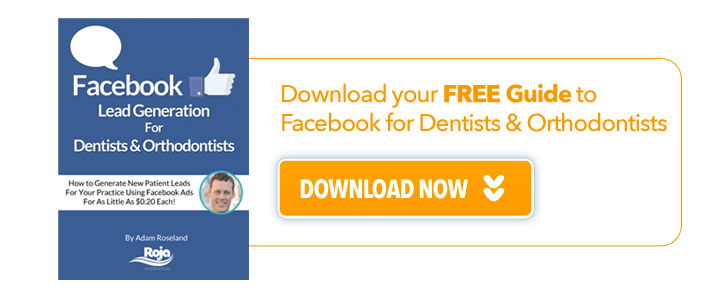 2. You Don't Use Social Media
So many dentists and orthodontists we meet fail understand and appreciate the power of social media. A person's health is one of the most important things a person possesses. They are not going to trust just anyone to fill that cavity or administer braces. They are going to call someone they trust. Trust is built via referrals from family, friends, colleagues, and even other websites.
Social media carries a tremendous impact when it comes to building that trust.
3. You Haven't Officially Claimed Your Google Places Listing
Currently, when a person searches in Google for a local service provider, such as a dentist or orthodontist, the results will often include local, maps-based results based on the user's IP address. What appears in these local search results depends on a number of factors.
One of the more important factors is whether or not your business address is officially registered with Google through Google Places. If Google does not know that you have an official business at XYZ address, then there is less of a chance it will appear in their Google Maps results, which powers the local search results a user sees.
If you are already appearing in the results, be sure to officially claim your listing. If not, you should create your listing immediately.
4. Your Website is Out-dated
Do you have a stock photo from 1998? Is you the address on your website old? Is it broken? Has it been more than 6 months since you updated your website with fresh, relevant content?
Many dental professionals forget that your website is a marketing tool and must always be updated with new and engaging messaging and content. Not only do people love fresh content, but the search engines reward websites with new content that's continually updated on a regular basis! It's a win-win when you update regularly.
5. There Are No Easy Ways to Contact Your Office
In an ever-changing, fast-paced culture that revolves more and more around the mobile phone, it's more important than ever to make sure you give your visitors the most effortless website experience.
Most of the time, when a visitor reaches your website, they want to call you, schedule an appointment, or get directions. Making sure it's easy and obvious on how to do this will ensure that potential patients won't leave your website out of frustration or distraction. This means having easy-to-see buttons, click-to-call phone numbers, and clickable (text-based) addresses that open a map.
6. You Do Not Have Any Online Reviews
Having a website that's easy to use helps to establish trust with potential patients. Being active in social media will reinforce that trust. Having online reviews from past and current patients that others can easily read will often times seal the deal for that new patient.
The more satisfied a patient is, the higher the chances are of that person becoming a raving fan of you and your practice. Be sure to always over-deliver and guide happy patients to the proper review websites (Google, Yelp, Yahoo!, Facebook, etc.) to leave their amazing account of the awesome care they just received at your office.
7. Your Website is Not Mobile Optimized
According to a Google study, mobile optimized sites increase click-to-call by 10-30% for businesses. There are now more mobile devices on earth than there are people. With more people searching for local services via their mobile phone each day, it's really important to make sure they have the best experience possible on your website, regardless of device.
In other words, it's time to get mobilized.
Click Here To Take Our Dental Survey